News & Events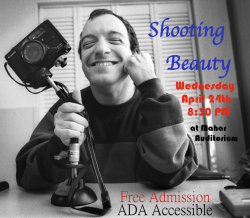 A free screening of Shooting Beauty will be held at UMass Amherst, Amherst, MA at 8:30 pm in Mahar Auditorium as part of Disability Awareness Week. This week is being hosted by Pi Kappa Phi's philanthropy, Push America, a nonprofit charity dedicated to serving people with disabilities. George Kachadorian, director of Shooting Beauty, will be Skyped in after the screening for a Q&A! Visit Pi Kappa Phi's Facebook page for more information on the event.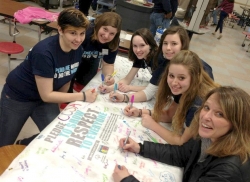 Shooting Beauty in collaboration with the Best Buddies chapter of the CAB Calloway School of the Arts was the focus of a day long event aimed at raising awareness around language & disability and promoting a culture of respect. After seeing Shooting Beauty at the Best Buddies National Leadership Conference, Christine Allen, student and president of Best Buddies at CAB Calloway worked with Erin S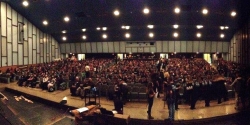 ullivan, teacher and founder of the chapter, to bring Courtney and Shooting Beauty to their school. Courtney visited classes and presented the film which received a standing ovation from the 850 students and staff. It was a honor to be part of this event. Thank you CAB Calloway!